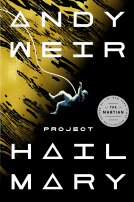 I just finished reading Andy Weir's new book, Project Hail Mary. I never read his debut novel, The Martian, so I wasn't exactly sure what to expect.
The basic premise of the story is that the Sun is being sapped of its energy by alien microorganisms and a discredited scientist and now school teacher, Ryland Grace, is sent on an interstellar mission to save mankind. The book reads like a mystery novel with Ryland awaking on a spacecraft with no memory of how he got there and where he is traveling to. He slowly is able to put the pieces together and with the help of an alien sidekick (Rocky), save the Earth from ultimate destruction.
Science enthusiasts will thoroughly enjoy The Hail Mary Project since Weir alludes to the natural sciences throughout the book. It is also filled with humor, loads of adventure and a surprise ending. You won't be disappointed!